World Premiere Musical "The Sampo" at FinnFest USA '99
FinnFest audiences in Seattle will be the very first in the world to see and enjoy a musical based on the Finnish epic Kalevala.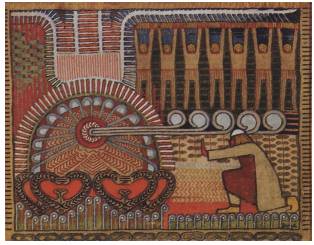 The performance is a great example of culture transcending ethnic boundaries. It is entirely a product of local Seattle artists. Playwright Nick DiMartino has been fascinated with Kalevala and its stories for years and has wanted to tell the story in a form approachable by all. He has done just that in writing the story of Sampo in a down-to-earth dialogue that makes it suitable for all audiences. Just like the whole FinnFest, this play is, indeed, for all generations. Nick is an award-winning author with over 18 full-run plays to his credit. His plays have been seen at Seattle Children's Theater and stages in Nashville,TN, Honolulu, HI, Dallas, TX, and Louisville, KY. He has also written three ghost stories, which will be available for purchase as FinnFest mementos at the HUB branch of the University BookStore.
Add to Nick's story and lyrics the skillful music by Kim Douglass, and you are in for a treat. Kim has worked on many Seattle theaters such as Seattle Repertory Theater, ACT, Village Theater and Civic Light Opera. She composed the music for Village Theater's Babes in Toyland.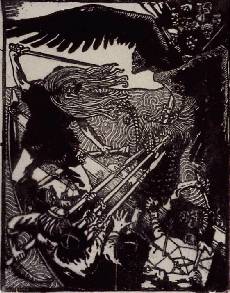 Lori Larsen will be the director of the musical. She has extensive experience with local music productions and has directed for the Seattle Opera, The Empty Space, Act and Cornish College. She is close to her Nordic roots and has toured Europe in performances in French and Norwegian. She has also performed in her own translation of the Danish A Sunday on Amager. According to Nick, "Kim and Lori both love Finnish folk and Finnish rock -- and there's a tango, too." Sound a little unorthodox for Kalevala? Maybe a little unusual, but as the producer, Jared Shaver, said, it will "enrich another generation of Finns with their own legends as well as introduce Finnish folklore to those unfamiliar with the wonderful fables that make up the rich heritage of Finland." Jared is the Artistic Director at Civic Light Opera in Seattle.
Local friends of Finnish culture and the early registrants of FinnFest will be able to see and hear the very first Sampo performance on Wednesday, July 21, at 4 p.m. in the HUB auditorium. This is a once in a lifetime opportunity!
The Sampo will have two other performances during FinnFest: Friday, July 23, at 8 p.m. and Saturday at 3 p.m. All performances will be in the HUB auditorium. Thanks to the generosity of Finlandia Foundation Trust and Mr. Carl Jarvie, the shows are free to FinnFest registrants; others will be charged $10 at the door.
Illustrations:
"'Ilmarinen': The forging of the Sampo", by J. Alanen
"The Defense of the Sampo", by Akseli Gallen-Kallela, 1896
---
FinnFest USA '99
4122 – 128th Ave. SE, Suite 305, Bellevue, WA 98006
Phone: (425) 401-7100 Fax: (425) 641-9983
E-mail: FinnFest99@finns.org
---
FYI: The word "sampo" comes from a legend of the Finnish epic Kalevala wherein a magical stone was forged by the smith "Ilmarinen" that made salt, grains and gold. Great conflicts raged over its posession. Ultimately, it is smashed and and lost at sea in a great battle. But fragments awash on the Finnish shore and bring with it fortune and prosperity upon the land. -MLW

Questions about this document? Please contact FinnFest99@finns.org

Questions about the web-site? Please contact webmaster@finns.org