Always a highlight of FinnFest:
FinnFashion Show '99!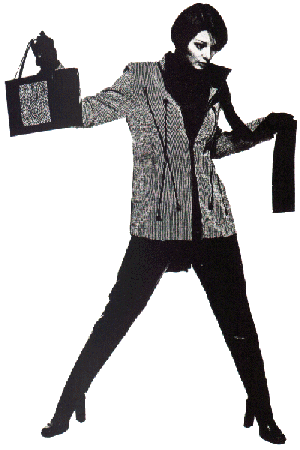 on Saturday, 24th July 1999.
---
"Fashion Cafe – A Taste of Finnish Fashions" will be a colorful, professionally-staged fashion show presenting the latest spectacular clothing and accessories from Finland's top designers and world-renowned fashion houses – As many have known for years, adding a touch of Finnish fashion to your wardrobe means adding chic style, stunning colors, lasting fabrics, and high quality workmanship! This show will have it all!


Annikki Karvinen
The company behind the fabulous "poppana" cotton jackets celebrates over 40 years of hand-made quality. It brings extraordinary color and distinct style in the form of Karvinen knits and accessories.


Friitala
Finnish leather wear that never goes out of fashion. Coats that are true to a tradition of Finnish quality, but styled for anyone wanting to wrap themselves in a little bit of luxury...


MIX
The wonderful store in San Francisco brings the most well-known (and best-loved) Finnish clothing by Marimekko to FinnFashion '99, It also features stunning evening wear by Finnish designer Ilona Pelli.


Kalevala Koru
Traditional Finnish jewelery and accessories steeped in historic charm, as well as newly added contemporary styles. Celebrate Kalavela's 150th year anniversary with the latest modern look of Kalevalakoru.