Luncheon and Show of Finnish Designer Fashions
Nature's Mysteries Designed into Fashion
Romance, color, innovation, superior quality, playfulness, and beautiful lines -- these are hallmarks of Finnish fashion. Renowned throughout the design and fashion world for unique individual styles paired with modern visions, Finland's fashion houses and their designers are legendary, dazzling the world for over 40 years. Not surprisingly, each designer finds some personal measure of inspiration in Finland's powerful and achingly beautiful nature -- sky blue lakes mirroring puffy clouds, deep fir forests bordering golden fields of rye, rocky sea edges meeting meadows of wildflowers, winter's indigo nights and white silence, celebrations of endless summer days. These elements and others that speak of a distinctly Finnish soul are the artistic heartbeat behind Finnish fashion.
To bring the art and fashion of Finland's top designers to a FinnFest audience, a special fashion show will be held at noon on Saturday, July 24th in the By George Café on the University of Washington campus. (Advance tickets are required; $20 FinnFest registrants, $28 all others, Buyers' Passes without lunch; $10 for registrants, $15 for others.) Always a sellout, the professionally choreographed show will shine the spotlight on such famous Finnish names as:
Marimekko


Annikki Karvinen


Friitala


and Kalevala Koru
As pioneer of Finland's entry into the world of international fashion, Marimekko leads the way with bold sweeps of color and vivid patterns. Bursting onto the design scene in 1951, Marimekko, was founded by the idealist and creative dynamo, Armi Ratia. With a mission to make "all kinds of clothing and clothing accessories for a modern lifestyle," Marimekko quickly bloomed in Finland and the U.S. as its brightly colored fabrics and clothing lit the landscape with a fresh and completely new style. Dubbed an "international phenomenon," Marimekko sales soared around the world. Despite a series of financial crises in its later life, the company continued as a design consortium, eventually under new direction, evolving, shrinking, growing, but still surviving.
The enthusiastic force behind the trend-setting company today is Kirsti Paakkanen, its visionary owner and president since 1992. Today's Marimekko designs reflect the more elegant and sophisticated fashion and accessory needs of working women in a line by Ritva Falla, while including colorful items for children and the home. Still acknowledging its sensational beginnings, several classic Marimekko models from the 60s and 70s are sprinkled into each season's line.
Marimekko fashions are presented on the West Coast by MIX, an exclusive fashion boutique in San Francisco's posh Union Square shopping neighborhood. Founded in 1983 by Maija-Liisa Kujansuu and Ken Vais, the boutique's original name was 'Marimekko' since it only showcased that company's products. Since then, the shop has evolved into a full-scale specialty clothing and accessories boutique with designer fashions from Finland, France, and China. In 1997, this evolution was marked with an official name change to MIX.
Along with the latest Marimekko fashions, MIX also carries the sensational evening wear line by Finnish designer Ilona Pelli, luxurious leatherwear by Friitala, and Annikki Karvinen 's colorful poppana jackets. With cool beige walls and birch cabinetry, MIX is an oasis of calm, sophisticated Finnish style in a busy urban landscape. It's the perfect backdrop for gorgeous fashions from Finland.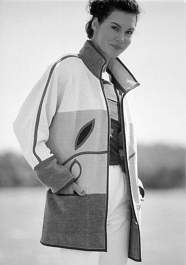 Also a master of line and color, Annikki Karvinen exhibits an independent and creative spirit in her fashions. Translated, this means "Annikki style," a mixture of Finnish heritage blended with international influences. Beginning in 1968, her innovative and colorful cotton poppana jackets, with their whimsical appliquéed patterns, captivated buyers in Finland. Thereafter women in Scandinavia, Europe, North America and Japan discovered her delightfully wearable clothes and snapped them up, reveling in their comfort and color. Business soon soared and what started as a family operated business in Jyvaskyla now employs 70 people around the world and exports 80 percent of its product.
Currently, the company has two lines: Anno- by Annikki Karvinen represents trendy, feminine and simple lines, while the Annikki Karvinen Collection is the company's traditional, classic designer line with hand-woven materials, lavish detail and unusual colors. Both have been highly successful in international markets.
Finland's renowned expertise in fine leatherwear and shearling coats comes alive in the designs of Friitala. Founded 105 years ago as a small tannery, the company today is known as a high tech and high design company. Its prized garments pair Finnish sensibilities with international fashion trends to create a distinctive, elegant style. Given its roots in tanning, Friitala has always been a leader in technological innovations for leathergoods production. "Waterfree," a process that allows natural leather to withstand water damage for up to six hours, tops Friitala's invention list. With 75 percent of its production reaching markets worldwide, today Friitala does business in 13 countries.
Rounding out FinnFashion '99, are Kalevala Koru.'s exceptional gold, silver and bronze jewelry and accessory pieces. With designs taken almost exclusively from the Viking era in Finland, Kaleva Koru's striking pendants, earrings, brooches and bracelets are hundreds or even thousands of years old. In a tradition that began almost 60 years ago, the company's goldsmiths and designers collaborate with archeologists to ensure that each piece of jewelry has an authentic historical derivation and each design motif shares a traditional symbolic meaning. In the past 10 years, the company has grown tenfold by expanding into European markets and by introducing contemporary designs under the name Kaunis Koru. The U.S. is next.
While their design talent and fashion sensibilities may be vastly different, each participant in FinnFashion '99 shares an intense appreciation of nature -- an appreciation that is after all, a quintessential element of being Finnish. We invite you to join the experience.
Please visit www.finns.org to learn more about FinnFest USA '99 to be held in Seattle, July 22-25.
For More Information, Contact:
Judith Dern, (206) 285-5605
Kristiina Hiukka, (425) 820-1819
Photo: Finnish Design by Annikki Karvinen